Bolton Limos For Hire
Stretched Limousines, Hummers, Mercedes, Baby Bentleys And More!
All of the stretched limousines and chauffeur cars listed below are carefully maintained and cleaned inside and out prior to each booking. Make sure you arrive at your next special occaison like a VIP! To make a booking or find out more about any of our wonderful cars please call our office on freephone 0800 083 1782 (or call our local number 01204 522 422). Alternatively fill out the enquiry form and we'll reply in just a while!
The Chrysler 300 Series is often referred to as a 'Baby Bentley'. With striking looks and a packed interior, this is one of the most exciting limos in Lancashire. Find out more >

Licensed and legal for upto 12 passengers, this is a great 4x4 Jeep limo for stag nights, proms and birthdays . Find out more >

Arguably the most popular limo of them all, the Town Car is a versatile limousine thats suitable for just about any booking!

Find out more >

The 12 seater Ford Expedition packs a punch with its roomy interior and excellent passenger facilities.

Find out more >

A fun, stylish 12 seater limo from one of America's top coachbuilders.

Find out more >

14 passengers can enjoy a ride around town in this all-American SUV! A full onboard entertainment system awaits you inside!

Find out more >

Don't compromise your limo ride - enjoy the best features around in one of the best looking limousines in the UK!

Find out more >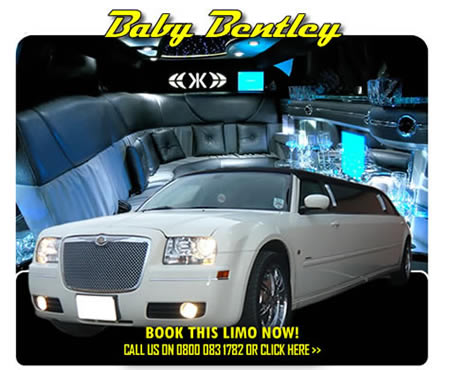 Chrysler 300 Limo
The Chrysler 300 is often referred to as the 'Baby Bentley' and, with its great presence and striking appearance its not hard to see why! This 'Baby Bentley' is licensed for 8 passengers per journey and has a fabulous NEON BLUE interior design! Features include:
Attractive interior with neon blue lighting!!
Flatscreen TVs and DVD player
Charcoal coloured cushions and stitched leather seating!
A VIP bar area with a clean set of glasses - get ready to pop the bubbly!
Passenger climate control unit, tinted windows, alloys and a great CD stereo system all adds up to provide a nightclub on the road!
The 'Baby Bentley' is one of our most requested cars - book early to ensure you get a chance to sample this great limo! Top of page >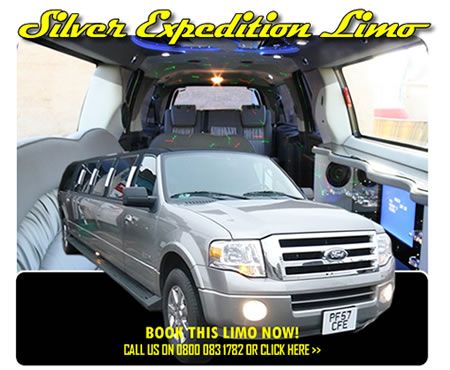 Silver Jeep Limo (Ford Expedition)
This 12 seater Ford Expedition is 100% legal for bookings in Bolton and Lancashire. Apart from the Expedition's obvious good looks on the outside you'll find everything you need for a great party on the inside! Flatscreen TV units, DVD player, CD stereo and excellent speakers throughout the passenger area make up the onboard entertainment while you can enjoy multicoloured lighting and a VIP bar area as you cruise around town! Ideal for proms, airport transfers and stag nights! Top of page >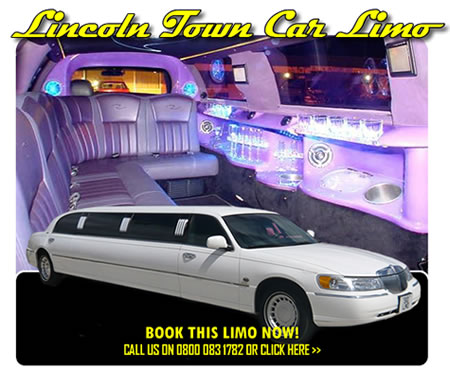 Lincoln Town Car Limousine In White
The Lincoln Town Car is the traditional style of chauffeur driven limousine and its gracefully design makes it appropriate for all kinds of occasions, including weddings, civil partnerships, proms, birthdays and hen nights. Don't forget, decorative ribbons are available for weddings and civil ceremonies to complement the car. Top of page >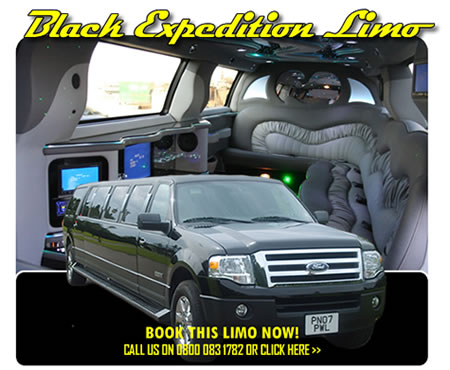 Ford Expedition In Black
Our black Ford Expedition is a great Jeep limo style 4x4 and is COIF legal for upto 12 passengers per journey. You can expect a high standard of comfort and entertainment onboard thanks to the spacious interior, leather seating and complete audio/visual system. Top of page >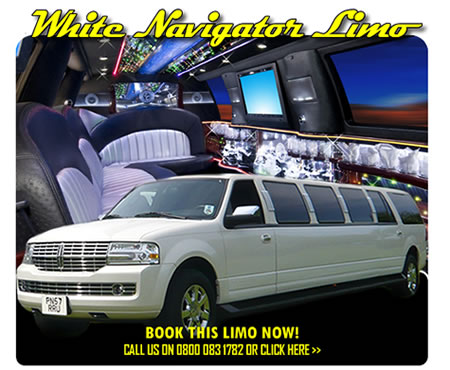 Lincoln Navigator In White
Our white Lincoln Navigator includes a top of the range TV/DVD/CD entertainment system as standard, along with comfortable leather seats for upto 12 passengers.
If you're looking for an affordable way to arrive at your school prom then why not share the costs with your friends or other prom dates? We can collect your party from several addresses if required so everyone gets the chance to enjoy a 4x4 limo ride and travel to and from the prom in complete safety! Top of page >
Ford 4x4 In White
A great Hummer limo style 4x4 thats licensed for upto 14 passengers. Features include alloy wheels, American style body chrome, tinted windows, leather seats, ice buckets, TV unit, DVD player, CD stereo, audio speakers throughout the passenger area, starlight mirrored ceiling, fibre optic lighting and passenger/driver divider screen. In short, this car has all that you need for a great time - make a celebrity style entrance to any nightclub or bar in Bolton by arriving in our Ford 4x4!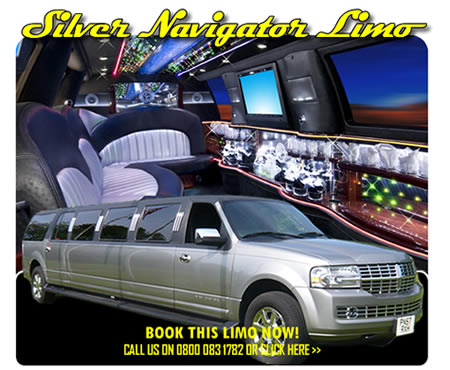 Lincoln Navigator In Silver
Our silver Lincoln Navigator is just part of an extensive fleet of stretched and super stretched limousines from Big Slo Limo Hire Bolton! Step aboard with your friends and experience a luxury ride like no other. Travel around Bolton, head into Manchester or Liverpool for a night on the town or kick start your holiday with a super luxurious airport transfer! Whatever the occasion we have a car for you. If you can't decide on a suitable limo then just complete the enquiry form and we'll be happy to suggest a limo for you! Top of page >